About Us
MAMA BEIGNET is a company that is born out of another company MAMA AFRICA.
Want to know more about Mama Beignet?
MAMA BEIGNET is a company born out of another company MAMA AFRICA. In fact, MAMA AFRICA 's been cooking and serving her delicious beignet to the WASATCH Valley for more than 15 years for her neighborhood, friends, and family, at fairs and festivals, farmers' markets, and catering.
Mama Africa's Beignets were such a hit that everybody was talking about it!
So Mama Africa decide to create a company named Mama Beignet in October 2020.
Mama Beignet is, since then, promoting and delivering high-quality authentic African Beignet, also called "Mikaté", made with love from the Congo adding a touch of homemade syrups and creative toppings, and unique flavors to the delicious Beignets!
Besides the beignets, Mama Beignet has developed a lineup of delicious Samossas to be able to enrich your plate and appetite from sweet to savory.
Mama Africa just received the 2022 Winning Award for the Best Beignets with the Best of Utah.
Cathy Tshilombo-Lokemba
Founder
Mama Beignet
"Nostalgie quand tu nous prends !!!" (Nostalgia when you take us, French expression)
Mama Beignet name is a name that comes from my childhood when I was a student at the Belgian International Elementary School "Prince de Liège" in 1974, in Kinshasa, in the Democratic Republic of the Congo. I have learned to eat beignets with a little Pili-Pili sauce, which was a blast for me, that was my first Beignet with a Pili-Pili sauce experience ever! Something very new for me, as I was coming freshly from Belgium! Yes in Belgium I was enjoying the croustillons (oliebol) at "La Foire d'Octobre" at the "Boulevard de la Sauvenière", but nothing like beignets.
When at that time President Mobutu decided that no local students could no longer study in foreign schools we then dropped out from Prince de Liège to attend the Mont-Amba Elementary School, to pursue my education.
Over there when class was over around 1 PM there was a small market under some mangos tree where people were selling some snacks so students could enjoy them on their way home!
There was the "cinq glasses" guy, there was a "Mama Matonge", Tata Kanga colère, and Mama Beignet she was running a successful business selling delicious beignets with Pili-Pili!
That is where I got the name "Mama Beignet".
Inspiration from my sweet childhood!
When I started attending Farmers' Markets here in Utah I added Mama Beignets on my Mama Africa's Menu with a little sugar powder and chocolate. Utah has been a sweet State but it wasn't ready for these Beignets with Pili Pili sauce!! Lol. For I find out that my beignets were a big hit!!!
People will ask what are these Beignets? I have to explain to them that it's a deep-fried dough, no eggs, no cheese, no milk, no butter, all vegan, and all made by women "Mamas" in Africa, especially in the Congo DRC, who cooked and sold them to raise their children and send them to school!
In fact, even my beloved Grandma Ngalu Wa Mahole, my Dad's Mom in Mwene-Ditu, a town in DRC, was frying these beignets every morning and selling them on the street at the corner of her house, and she was able to help support her lovely husband and her 15 kids.
The story of beignets is a wonderful journey in late 1860 the colonial immigrants to Africa with the recipes included the beignets which they called over there Ollybolly, there are originally from Netherlands, Germany, and Belgium. The Colonial brought them to Africa, and from Africa, they immigrated to the USA with the slaves in late 1920, landed in Louisiana, but immigrated also with the first French immigrants in the USA.
And today Mama Africa brings them to Utah straight from my African roots! After cooking beignets for 15 years with Mama Africa I decided to create a business only focusing on my beignets since they are the best seller on my menu.
So to highlight the beignets products, on Oct 2020, I decided to create a new business by the name of "Mama Beignet" by Mama Africa.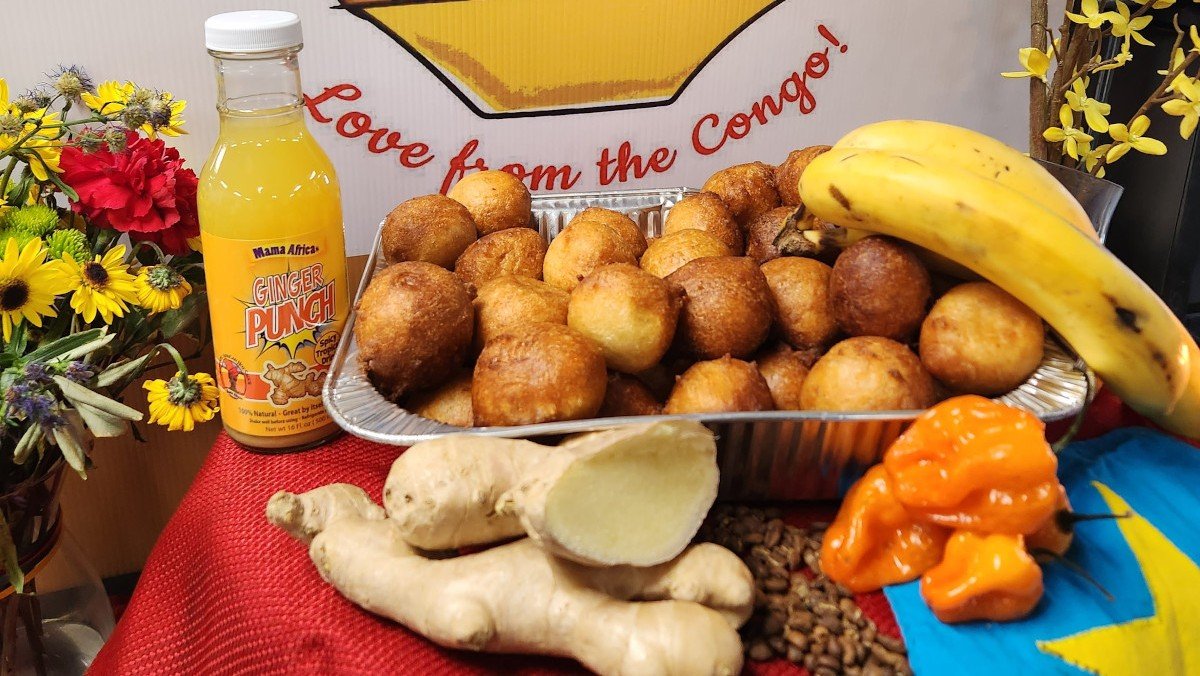 My customers love my beignets, I educate them
Beignets is better than a doughnut Mama say !
Beignet can last up to 3 days, they are good for breakfast, snacks, for lunch, for dinner,for after midnight snack ! For anytime.
In my beignets there is no milk no cheese, no butter, no eggs, in it all vegan good for your tummy !
Its to see beignets all over the world representing my country the Congo, the Congo flag, My Congo strong root !
Is to show that a little snack can go a long way and travel the world like beignets in fact food speaks all languages.
We offer our services to:
BEIGNETS MIX , USTENTILS, GEARS, SYRUP AND TOPPINGS
CATERING / PICK UP / CURBSIDE / DELIVERY / EVENTS
UBER EAT,
GRUBHUB,
DOORDASH.
I want to tell this amazing story to keep my beautiful Authentic root about my beignets journey and story. The potential of the business is very large and the margin is unbelievable big !
Another band came out of this "Mama Beignet" its "I Love Beignet".
Making sure that my Congo flag is represented
In all my Culinary Entrepreneurship journey I Make sure Congo is allways proud of me.
Don't ask what your country can for you …Ask what can you do for your country!